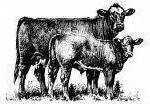 Keoco Auction Company
Sigourney, IA
Special Bred Cow Sale
Monday, November 30, 2020
Sale Time: 12:00 Noon
25 Big Fancy Blk/Bwf Hfrs bred to LBW Angus bulls, start calving Feb. 1st, ultra-sounded for sex, complete vac. and mineral program, rep. ………………………………. Jeff Buford
20 Big Fancy Blk/Bwf 3-yr. olds, bred to Angus bulls, start calving March 1st, bulls in for 60-days, complete vac. and mineral program, rep. …………………………….. Jeff Buford
50 Big Fancy Blk/Bwf, 3-5 yrs.old, approx. 20 hd with fall calves at side tagged to match, rest of the cows start calving Feb., bred to Red Angus bulls, complete vac. and mineral program, complete dispersal, rep. ………………………………………………….. J. Beals
28 Big Fancy Blk/Bwf cows, 2-11 yrs. old, bred to BWF Simm bulls, start calving March 1st, complete vac. and mineral program, complete dispersal, rep. ……………… Jim Stewart
22 Big Fancy Blk/Bwf 3-5 yr. olds, bred to Blk Angus Wagon Hammer bull, start calving March 5th, 60-day calving period, complete vac. and mineral program, rep. ………….. Kevin Myers
12 Big Fancy Blk 4-yr. olds, bred to top prod. Blk bulls, start calving March rep. ……………………………………………………………… Denny & Cole Van Genderen
12 Big Fancy Blk 4yr. old cows with calves at side, complete vac. and mineral program, cows unexposed, rep. . ………………………………………………. Ryan & Neil Clarahan
12 Big Fancy mostly Red cows, 5-SS, with calves at side, complete vac. and mineral program, cows unexposed, rep. ………………………………………………………. Ryan Clarahan
10 Big Fancy Blk Simm cows, 2-4 yrs. old, bred to top prod. Blk Simm bulls, start calving March 1st, rep. ……………………………………………………………. Dan Flynn
6 Big Fancy P.B. Hereford Hfrs, bred to LBW Blk bulls, start calving March 10th, complete vac. and mineral program, rep. ............................................................... Brian Jackson
Farmers and Cattlemen, this will be a nice sale of top reputation bred cows from many of our top local and surrounding producers. Calving dates and breeding records will be announced at sale time.
We have top demand for feeder calves, market cows and bulls.
Upcoming Sales:
Mon., Dec. 7: Special Cattle Sale
Mon., Dec. 14: Regular Cattle Sale
Mon., Dec. 21: Special Cattle Sale
Let everyday blessings fill your heart with joy this Thanksgiving!
We thank you for your continued support and wish you all a blessed Thanksgiving!
**View our auctions "LIVE" at www.lmaauctions.com**
To Consign Cattle or For More Information, please call:
Office, Becky Abell: 641-622-3535
Justin Abell: 641-660-8048
Ryan Clarahan: 641-660-2713 Matt Hixson: 319-461-5250
www.keocoauctionco.com